SUPERMAN, ACTION COMICS, THE ADVENTURES OF SUPERMAN, are monthly comics published by
DC Comics
. A fifth. A new Superman comic book comes out nearly every week. In addition, DC usually publishes one special annual Superman comic
.
There are several additional Superman family monthly series. Superboy had his own monthly title (which was cancelled with issue #100) and still appears in YOUNG JUSTICE. Supergirl also stars in her own regular series. John Henry Irons starred in the now-cancelled STEEL title in the mid-1990s. Other occasional limited series also feature Superman and his supporting cast. Since Superman is a member of the latest incarnation of the Justice League of America, he also appears in the latest JLA comic.
Based on the success of the Batman and Superman animated television series, DC also publishes comics based upon these cartoons. These titles are aimed at a slightly younger audience and are independent of mainstream DC continuity. Superman starred in SUPERMAN ADVENTURES before it was cancelled, and continues to appear in JUSTICE LEAGUE ADVENTURES.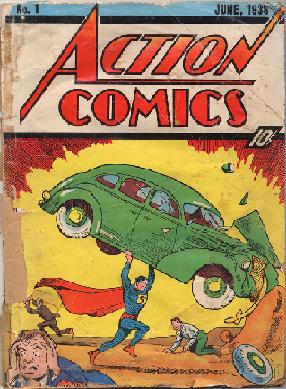 Though each comic contains a story unto itself, the story lines flow (somewhat) smoothly from comic to comic across the titles. Previously, a plot in ACTION one week would continue in SUPERMAN the next. Starting in 1999, a new creative team tried to make each title distinct in subtle ways. SUPERMAN has a return to basics with a little extra on the man in Superman. THE ADVENTURES OF SUPERMAN shows Superman from the viewpoint of the people of Metropolis. Not surprisingly, ACTION COMICS deals with action! Another criterion I suggest for choosing a title is to consider the writers and art teams.